Bayshore Residential Resort - LOCATION
What you can find within the vicinity of the Bayshore Residential Resort 2 is some of the city's key destinations. This Megaworld project is within the boundaries of Pasay and Parañaque (which is also near the city of Manila) that is why you have multiple cities in Metro Manila where you will have easy access to major landmarks. 
If you worry about your kids where to study once you decide to live at the Bayshore Residential Resort 2, you don't have to. The site is surrounded by some of Manila's prominent schools and other respectable educational institutions. Here, your kids will not have a problem commuting every day because they are just within your new home's immediate vicinity. Some of these schools include the Tambo Elementary School, Camp Claudio Elementary School, International School Manila, Singapore School Manila, St. Paul College Parañaque, and the Parañaque National High School.

Some of the premier medical institutions that surround the Bayshore Residential Resort 2 include the Protacio Hospital, Sitio Maligaya Health Center, Pasay-Parañaque Hospital, Sta. Rita De Baclaran General Hospital, and the Tambo Health Center, among other hospitals. You and the family will have easy access with these institutions where they can be reached with an average of only 20 minutes from the condo project.

Moreover, your basic necessities will not be compromised once you live near the bay. Even though there are retail shops that will be set up in the vicinity of the Bayshore, you can shop outside any time you have the urge to do so. There are several shopping centers, malls, and convenience stores near your new home. Some of these are the Baclaran Market, Baclaran Super Mall, SM Mall of Asia, S&R Membership Shopping, Cartimar Shopping Center, Baclaran Shopping Plaza, SM Prime Holdings, and the Empire Center Mall, among others. 

There are also fine dining restaurants less than a kilometer from the Bayshore, such as the Oasis Garden Cafe, Waterside Resto Bar, Red Ginger, Gerry's Grill, North Park, Shakey's, and the Golden Bay Restaurant (a Chinese restaurant), among others. 

Furthermore, your Sunday duties will not be missed as there are numerous places of worship within the site. This includes the Baclaran Church, the United Evangelical Church of Pasay, Jesus Is Lord Church Parañaque, Iglesia Ni Cristo Lokal ng Pasay, and the Pasay City Church of Christ.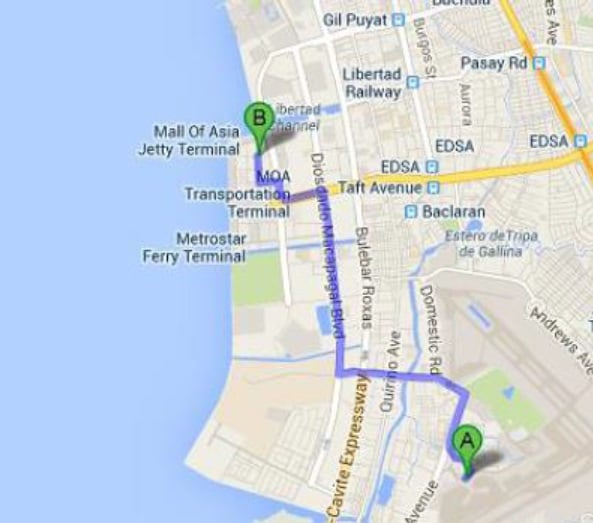 Developed by Megaworld, Bayshore Residential Resort 2 is located in Baclaran, Paranaque City. This elegant and luxurious township is within the Entertainment City, which is emerging to become one of the most significant tourism hubs in the country. This city is notable for its iconic structures sitting on the 31-hectare entertainment complex and tourism estate in the famous Manila Bay.
Bayshore Residential Resort 2 is the ideal destination for those looking to live in the middle of it all. It has an ideal location that is perfect for both local and international tourists. Here, you will have an address that is near to everything you need to have a convenient lifestyle. Especially if you have the taste for refined, you and your loved ones will find this residential community the best choice.
This community is in the middle of the Bayshore City. It is an oasis that will let you experience the arts and culture of the city. Every day will be a pleasure because it will always be full of surprises.
When looking for a unit to buy, you should choose one that is near schools to ensure that your children will receive quality education. Some of the educational institutions and schools near this community are Tambo Elementary School, San Agustin Elementary School, Parañaque Science High School, La Huerta National High School and Flight and Simulator Training Academy.
Other choices include TESDA Accredited Competency Assessment Centers, Parañaque Christian School, UCCP-Parañaque Christian School, Wide-Aero School of Aviation, PTC Mil-Com Aviation Training Center, Paranaque Elementary School Central and Camp Claudio Elementary School.
Then it comes to shopping centers and malls, the Bayshore Residential Resort 2 is near Virramall, Ibayo Town Center, Duty Free Philippines Fiestamall, Liana's Shopping Mall, Pearl Plaza and SM City Sucat.
More options include the Baclaran Terminal Plaza Mall, SM Mall of Asia, Century City Mall, S&R Parañaque and W Mall.
For your healthcare and medical needs, it is close to the Our Lady of Peace Hospital, Protacio Hospital, Santa Rita De Baclaran Hospital and Paranaque Community Hospital.
Other medical centers include the Paranaque Doctor's Hospital, Olivarez General Hospital, Ospital ng Parañaque, Villamor Health Center, San Dionisio Health Center, Adventist Medical Center and The Premier Medical Center.
For places of worship, this community is near the Martyrs' Memorial United Methodist Church, St. Joseph Parish, Parañaque IEMELIF Central Church, Parañaque Bible Christian Church, Holy Infant Jesus Parish, The Church of Jesus Christ of Latter-day, Hope Of Eternal Life Baptist Church and Baltao IEMELIF Church.
Other churches to find near the residences include the San Dionisio Chapel, Christian Life Assembly of God, United Church of Christ in the Philippines, First Baptist Church of Pildira and St. Martin De Porres Parish.
About Paranaque City: It is one of the most urbanized cities in the Philippines with a population totaling to 585,971, as of 2008. This city is the third largest when it comes to area in the entire NCR with a total of 46.57 sq. km. It is notable for its proximity to the coastline.